LESSON 13: THE WORKING FORMULA
I have used this formula for all my businesses and affiliate promotions and it has always worked. This formula makes your traffic or audience convert into customers and buy whatever you are offering. 100% guaranteed.
THE WORKING FORMULA
I have used this formula for all my businesses and affiliate promotions and it has always worked. This formula makes your traffic or audience convert into customers and buy whatever you are offering. 100% guaranteed.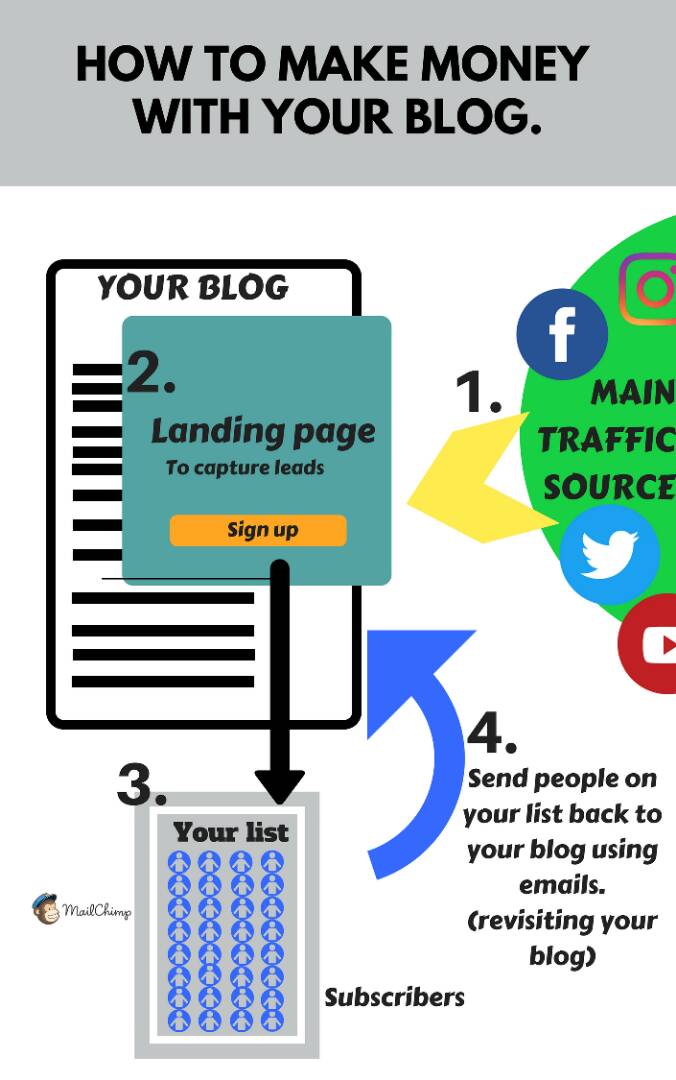 From the eBook HOW TO MONETIZE OUR BLOG.
Traffic > website> landing page> email list> freebies>product promotion> sales.
EXPLANATION
The way this formula works is,
You start by sending free/paid traffic to your WEBSITE to start getting visitors that come to your WEBSITE.
Your landing page which is set in place will pop up on your WEBSITE/BLOG PAGE immediately your visitors either get to your website or when they are trying to exit the page; this LANDING PAGE will offer something very attractive, catchy and interesting to the visitors and captures the attention just for a second, which is enough to change their minds and instead sign up on the landing page.
sometimes the landing page may just automatically open in another tab in there browser and serve as a stand alone page.
The LANDING PAGE can offer your visitors a freebie for example.
Then your visitors will have to register/opt-in with their name and email address on your landing page to get the freebie as you promised. Doing this turns your visitors into subscribers and sends your visitors into your EMAIL LIST.
This means you can save the information of your paid traffic so that you can contact or get in touch with them again by sending them emails.
The EMAIL LIST is created to send freebies and emails to your subscribers and they will love you for it if what you give them is actually good and helpful information.
Since they now love you and are willing to read more of anything for you send to them, you can send them back to your website or blog when you have something new posted on your blog or promote your products or e books and send them back to your sales page on your website as many times as you can.
Finally after series of emails, sending them to your blog posts and and giving them more value you can start monetizing with this strategy by promoting Ads or Affiliate offers and start making some sales.
The more people you have in your list the more money you tend to make using this Structure for your business.
This strategy will save you money and it's more effective than typical methods.
This strategy also works with organic traffic so if you are generating organic traffic from your blog then you can still get visitors to sign up into your landing page and monetize your list eventually.
This strategy is called the email marketing strategy.
you can use Getresponse to create your landing page and integrate it into your website.
other options are 
INSTAPAGE
LEADPAGES
LANDER
AWEBER
MAILCHIMP
You can send your subscribers to not just only your blog, but also your affiliate offers and product sales page.
What ever happens after then becomes CONVERSION.
For beginners you can start with using Getresponse because it has an easy drag and drop system and its free for one month so you have to make good use of it before you start getting charged.
Getresponse also has a plugin on WordPress which you can. Install on your website and connect your landing page directly.
You can use Instapage, its just like Getresponse, they also have ready made templates and free trials.
Mailchimp is another alternative, it has a free for life account but its not easy to build quality landing page with Mailchimp unless you are a graphic designer.
Both Mailchimp and Instapage can be connected to your website with their plugins.
LANDING PAGES AND ITS PURPOSE
A landing page is standalone page that is usually used to convert traffic into leads or possibly sales for a product or offer.
Why most websites use landing page is to capture the visitors information and use it to retarget them or send them back to their website or other offers and products.
Therefore its a very smart move to have landing pages on your blog or Website in general.
The best way to create  a landing page is through email marketing websites like getresponse, aweber, mailchimp, mailer and so on.
The top recommended websites are mailchimp and getresponse
Creating a landing page is similar to creating a website because it has to be designed and given functions, so to avoid building a landing page, you can outsource for people who can do it for you.
But what you need to know about having a landing Page is
A landing page should be able to capture your visitors on your blog and convert them into email subscribers.
The best way to have a highly converting landing page is if you have something free and mouthwatering to offer your visitors.
We call this offers on a landing page LEAD MAGNETS.
A lead magnet is an offer that magnets your visitors to your landing page and get them to sign up on the page and become a subscriber.
You can offer anything you are capable of giving away.
e.g free eBooks, free application, coupon codes, gifts and so on.
It has to be something you are will really give out.
That one of the best ways to start turning your  readers into followers, by gibing them something more valuable.
So it means you should be all about giving value, value, value to your visitors.
A landing page should be attractive and well designed.
This part should be for the designer. Landing pages are either a standalone page and have their own URL links. And some times they pop up on the home page of a website.
A landing page usually has one or two tabs for inputing names and emails.
If your landing page looks appealing then you will get more conversions.
Here are links to learn more about landing pages and how to get leads from your website
https://www.google.com.ng/amp/s/neilpatel.com/blog/a-brief-guide-to-designing-high-converting-landing-pages/amp/
https://www.google.com.ng/amp/s/blog.useproof.com/landing-page-examples/amp/
https://blog.getresponse.com/high-converting-landing-page.html
Please Take your time and go through them.
For those of you using WordPress websites and blogs
Thanks for reading all through if you have any question please drop your comments on the comment section below. see you in the next lesson.